It is already March, where has the time gone? After watching the Craftsy.com video for Amy Gibson's Block of the Month class, I got started on the new blocks.
First I have the String Block. I decided to pretty much follow instructions on this block. I cut one or two strips from each fat quarter or scrap from previous projects. Then I pieced each 6.5 inch block, cut it down, then stitched them together. I wasn't a real fan of the block until I cut down each block. There are so many possibilities for this block. You could rotate the blocks so that the white pieces make an X or my favorite, a chevron. Overall, much easier than I thought it would be, just like every other block we have made so far.
Block 5-String Block
The sixth block in the series is the Broken Spider Web Block. I decided to mix things up a bit and use the blue and white print as a background print. Then I used one of the yellow prints, cut all of the strips to 1.25 inches wide and pieced it first to outline the blue and white print. Then I used the blue and white prints for the "web" portions. I really like how the center stands out, it is one of my favorite prints in the collection.
Block 6- Broken SPider Web
If you haven't joined in on the fun you should. Head on over to
Craftsy
and sign up for Amy Gibson's FREE!! Block of the Month class. You can join at any time and catch up. See you there!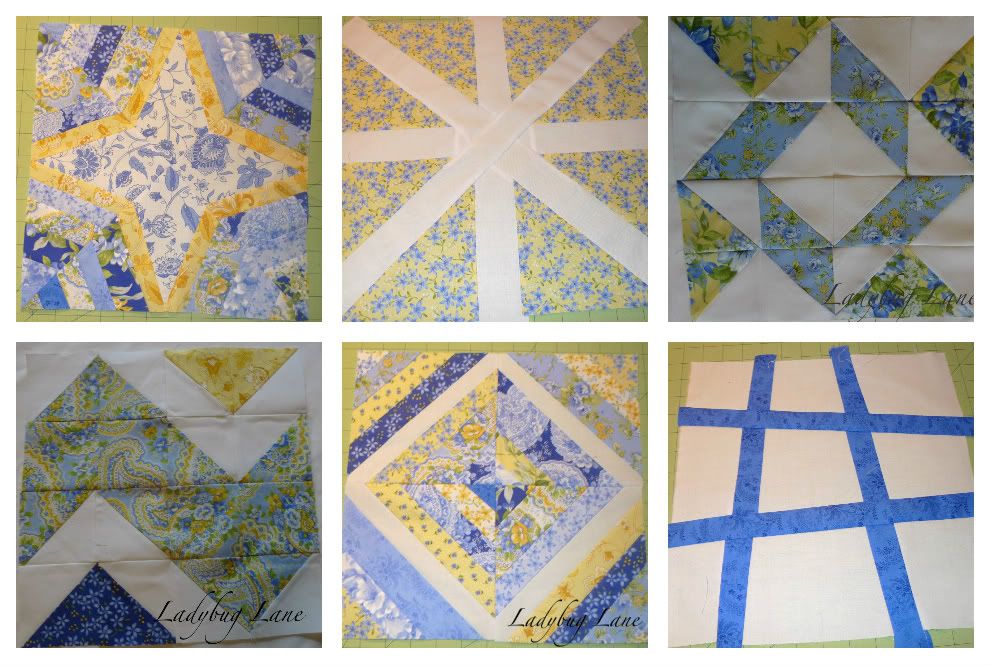 All 6 Blocks